Crete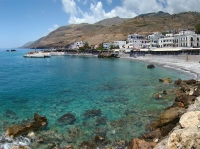 Situated in the eastern Mediterranean, Crete is by far the largest of the many Greek Islands and offers something for every kinds of traveller.
The island has experienced thousands of years of conquest and habitation and has a complicated and diverse heritage. Sightseers can investigate the remains of the ancient Minoan culture that flourished here thousands of years before Christ. Years of Roman, Venetian and Turkish rule have also left their mark and there are fascinating sights scattered throughout the island.
Its northern coastline is home to busy holiday resorts and a wealth of powdery white beaches where couples and families come to soak up the Mediterranean sunshine. The gateway to the island is the large, modern city of Heraklion, which is not so much an island idyll as a vital commercial centre. Other major holiday resorts in Greece include nearby Malia, lively Agios Nikolaos, Rethymnon with its lovely old town, and Chania, to the west, which known for its 14th-century Venetian harbour and waterfront restaurants.
The wild interior of Crete offers some spectacular mountain scenery drives and many opportunities for hikers and serious cyclists. The White Mountains in the west soar to over 2000m, while the more gentle mountains in the east hide the extraordinary Lasithi plateau in their midst, which is dotted with white windmills. The south coast of Crete is much more remote and rugged than the north. It is crisscrossed with gorges and dotted with unspoilt villages, pretty coves, and secluded beaches.
The Basics
TIME
GMT +2
ELECTRICITY
Electrical current is 230 volts and 50Hz. A variety of plugs are in use, including the European-style two-pin and the round three-pin.
LANGUAGE
Greek is the national language, but English is widely spoken.
TRAVEL HEALTH
Travellers don't need to worry about specific health risks when visiting Greece. Most health problems come from too much sun and too much food or alcohol, though there's also the risk of encountering sea urchins, jellyfish and mosquitoes.
Medical facilities in major cities are excellent but some of the smaller islands are a long way from a decent hospital. Larger towns and resorts have English-speaking private doctors and the highly professional local pharmacies can usually deal with any minor complaint. Travellers should take along any necessary prescription medication.
Food and water are safe, but those visiting for short periods should consider sticking to bottled water. UK nationals are entitled to a refund on emergency hospital treatment under a reciprocal agreement between the UK and Greece, and a European Health Insurance Card (EHIC) should be taken on holiday for this purpose.
TIPPING
A service charge is automatically added to most restaurant bills and an additional tip it not expected -- though always welcome. Rounding up the bill is sufficient for drinks at cafes; taxis, porters and cloakroom attendants will expect a tip.
SAFETY INFORMATION
Though Greece is a safe destination, peak tourist season usually sees a spike in petty theft cases, especially in crowded areas. Visitors should conceal valuables or store them in hotel safes and watch out for pickpockets. Violent crime is rare but there have been incidents on some islands; visitors travelling alone should not accept lifts from strangers.
LOCAL CUSTOMS
Though more traditional than the British in some ways, most Greeks are friendly and welcoming enough to seem intrusive to reserved British tourists. Greeks are also the heaviest smokers in Europe and will often ignore the smoking ban in public places. Swimwear is expected on the beach but tourists should dress properly in bars and restaurants.
Attractions
Sightseeing on Crete pulls visitors back through time and into the rich mythology of Ancient Greece. Highlights include the Palace of Knossos, the Cave of Zeus, the Monastery of Arkadi, the remains of Gortyna, and the Palace complex of Phaistos in the south. The Archaeological Museum and Historical Museum of Crete in Heraklion are also worth visiting.
Crete's sun-drenched, sandy beaches are the main attraction, but walkers will adore the island's breath-taking scenery, especially the beautiful gorges and mountains in Chania's Samaria Gorge National Park.
In the east, tiny Sitia is worth a peek for its picturesque port. Visitors may enjoy stopping in the town for lunch.
Eating Out
Crete offers traditional Greek food in its cafes, local tavernas and elegant restaurants. The island is also home to many ouzeri bars that specialise in the aniseed-flavoured liqueur called ouzo. Many of the destinations fast-food outlets and restaurants serve international favourites such as pasta, pizza, Indian and Mexican food.
Nightlife
Crete is not as well-known for its nightlife as some of other Ionian Islands. That said, it has its fair share of appeal, particularly within the busy resort towns of Heraklion and Limenas Hersonissos.
Bars, clubs, discos, lounges and pubs abound in Heraklion Town, Iraklio, Hania, Rethymno and Agios Nikloas. By contrast, Malia, Chania and Hersonissos are hot spots for package holiday tourists, though bars and clubs cater to a younger crowd intent on a lively night out.
Older travellers will enjoy Chania's fantastic restaurants, pubs, lounges and tavernas. Other options include joining the locals for their volta: a leisurely stroll or a horse-drawn carriage ride before sundowners or dinner.
All in all, visitors will find different 'moods' on Crete. Some may relish the bustling clubbing scene, while others will prefer experiencing local traditions in quiet villages.
Climate
Crete has a largely Mediterranean climate, with some influences from North Africa's weather patterns. Visitors will find hot, dry summers and mild winters.
Peak summer temperatures generally range from 86ºF (30ºC) during the day to 72ºF (22ºC) at night, though it can get significantly hotter during heat waves. Rainfall is almost non-existent in summer but showers can be expected between October and April. Crete's mountains sometimes receive snowfall during winter. Otherwise, snow is rare on the island.
Some visitors find Crete uncomfortably hot and humid during mid-summer, so spring and autumn may be the best times to visit for walking and sightseeing, when travellers can expect milder weather and smaller crowds.
LGBT+ Customs
Same-sex sexual relations are legal in Greece and civil unions between same-sex couples have been legal since 2015. The age of consent of 15 is the same as for partners of the opposite sex. Transgender people are able to change their legal gender. Anti-discrimination and hate speech laws apply to gender identity.
Public attitudes towards homosexuality vary throughout the country; public displays of affection by same-sex couples may be frowned upon, especially in rural areas.
Attitudes are generally much more welcoming in Athens and on many Greek islands, particularly on Lesvos, Mykonos and Skiathos, which are well known for their gay and lesbian scenes.
Health
VACCINE RECOMMENDATIONS
Details of vaccination recommendations and requirements are provided below.
All Travellers
Travellers should be up to date with routine vaccination courses and boosters as recommended in the UK. These vaccinations include for example measles-mumps-rubella (MMR) vaccine and diphtheria-tetanus-polio vaccine.
Country specific diphtheria recommendations are not provided here. Diphtheria tetanus and polio are combined in a single vaccine in the UK. Therefore, when a tetanus booster is recommended for travellers, diphtheria vaccine is also given. Should there be an outbreak of diphtheria in a country, diphtheria vaccination guidance will be provided.
Those who may be at increased risk of an infectious disease due to their work, lifestyle choice, or certain underlying health problems should be up to date with additional recommended vaccines. See the individual chapters of the 'Green Book' Immunisation against infectious disease for further details.
Certificate Requirements
There are no certificate requirements under International Health Regulations.
Most Travellers
The vaccines in this section are recommended for most travellers visiting this country. Information on when these vaccines should be considered can be found by clicking on the arrow. Vaccines are listed alphabetically.
The vaccines in this section are recommended for some travellers visiting this country. Information on when these vaccines should be considered can be found by clicking on the arrow. Vaccines are listed alphabetically.
Rabies (Bat Lyssavirus) Tick-Borne Encephalitis (TBE)
October 2021, 7 Nights
Please enquire for alternative Departure Dates, Durations & Hotels
Bali is an ideal beach town for people who want a relaxing beach holiday. Besides being beautiful, it is very convenient – you will find everything you need in Bali, including shops and a variety of tavernas.
